1:14 am
[fabledknowledge]

4:30 am
[fabledknowledge]

Cacturne in Smart Contest
I decided to start with a familiar pokemon - Cacturne. I caught a Cacturne that was "Careful" and likes "bitter food". Looking up berries, I felt that planting Durin was the best option. After growing Durin berries, I went to the Poffin house and made about eight or nine poffins and fed them to Cacturne to max out her "Smart" condition.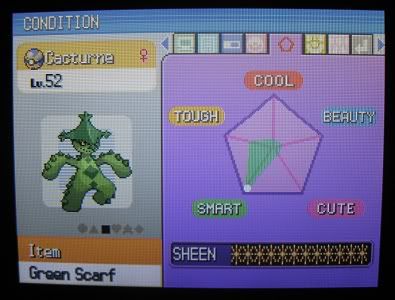 I took her to a guy in Pastoria City who felt that she earned the Green Scarf. I then headed to Hearthome where I entered her into a Normal rank of the Smart contest. She kicked major butt in Visual and Dancing but her Acting was not what I wanted. Her following moves were:
Faint Attack
Spikes
Sucker Punch
Leech Seed
All but one (I believe Leech Seed?) only gave out two hearts. The move with no hearts said something about "High score later" but I never understood what it meant. I think I'll be changing the moves around - if possible.
9:17 am
[fabledknowledge]

New Community
To be honest, I don't expect this community to take off or anything. I was surprised that there wasn't a community for contests in the games so who knows. I am now starting to learn the basics of joining in contests in Pokemon Diamond/Pearl. I never realized how complicated it can be when it comes to pokemon natures and preferences influencing what poffins you make and what berries you plant and what moves the pokemon must learn in order to make an impact with the judges.